Total Drama is the main series that Eternal's Total Drama is based off of. The orignal Total Drama show is created by Fresh TV network and is of Canadian origin. The original show is arguably meant for the young children or pre-teen demographic, where-as Eternal's version is meant for a more mature and aged up demographic.  It is this different that also sets Eternal's version apart from most other reimagining FanFictions, as most others don't change the rating to higher than that of the main show.
Both the real show and Eternal's version is compromised of seasons that take different names each time, the first season is 'Total Drama Island, the second is Total Drama Action, the third is Total Drama World Tour, the fourth is Total Drama: Revenge of the Island, the fifth is Total Drama All-Stars, the sixth is Total Drama: Pahkitew Island
Cast
Note, all of this is hypothetical voice actors. Most of them are the voice actors for the real show itself, but the original characters have hypothetical ones and the non-Total Drama ones also have hypothetical ones due to Canadian voice acting laws
Total Drama Island
For best coverage, see Total Drama Island and Total Drama Island Episodes/Chapters for all the episodes
This season involved twenty-two sixteen year-old contestants who had signed up to be in a reality show on an island, known as "Total Drama Island." The teens all had different expectations for what camp was going to be like, with the underlying idea that it was going to be luxurious. According to Chris McLean, to be on the show, one had to be sixteen years old and be either "kooky, obnoxious, stuck-up, dense, loud, annoying, filthy, or anywhere remotely in between." The twenty-two teens chosen were divided into two separate teams; the Screaming Gophers and the Killer Bass. The two teams were given challenges every three days. The losing team would vote one of their members off and the contestant that was voted off would have to walk the Dock of Shame and board the Boat of Losers, which would then take them away. At some point in the competition, the teams would dissolve. After the merge the same elimination process would continue to happen, except then after every challenge only one to two people had invincibility and after every challenge the whole group had to vote somebody out instead of just one team. This process continued until only two contestants were left to compete in a final challenge where the last contestant standing won $100,000.

In terms of the major plot, Heather was the main antagonist of the season, and used Cody's crush on her along with Beth & Lindsay's respective wannabe-ness and stupidity to make them into her pawns and get to the near-end of the competition. In reality, she was only using them the entire time to do plenty of things such as read Gwen's diary, frame Katie of stealing Eva's Mp3 player, spy on other contestants. Eventually she also nearly ended the relationship between Duncan and Trent, by kissing Trent infront of Duncan, Cody and Gwen. She also made major conflicts with Nearly Every other Contestant. On the other end of the spectrum there were Duncan and LeShawna who were her main enemies in the game. LeShawna made friends with Nearly Everyone while Duncan made only a select few plus one boyfriend despite Another liking him too. In more minor ends, there were relationships with less significant contestants such as Geoff and Bridgette, LeShawna and Harold, and minor friendships between Cody and Gwen despite of other things.There was also a secondary antagonist in Sadie, who after Katie was framed into elimination by Heather, set out to get rid of Eva by throwing the challenges for her team and pinning it on her fellow team-members. This led to another Friendship aswell. Sadie was eliminated at the merge. A possible third antagonist would be Harold or Courtney, Courtney of whom only because she promised she would get revenge though was nothing but a strong competitor, and Harold for rigging the votes to get Bridgette off due to Bullying he received from others.Half-way through, this season also introduced Cody's cousin Veronica into the mix, who served as a main enemy for Chris as she constantly tried to take his position as main hosed of the show. eventually she succeeded, only to get deported when Chris returned. During her run, she was shown to be arrogant due to her level of high fame and fortune.
Elimination Table/Recap
Not So Happy Campers - Part 1 and Brunch of Disgustingness have no elimination.

Camp Castaways has no elimination of a contestant, but Veronica did technically take the dock of shame/boat of losers as she was being deported.
Total Drama Drama Drama Drama Island has no elimination, but does have Cody, Duncan, Gwen, LeShawna, Heather, Katie, DJ, Izzy, Owen, Beth, Harold, Trent and Lindsay move on to Total Drama Action.
Total Drama Action
See Total Drama Action and Total Drama Action Episodes/Chapters for better coverage
After the events of Total Drama, Drama, Drama, Drama Island, in which all of season one's contestants attempted and failed to win the million dollars in a final challenge at Camp Wawanakwa, Chris McLean recruits the closest lucky fourteen players, who all tied in that challenge to continue on to the second season, which takes place on an abandoned film lot in Toronto. For forty-two days, the cast is forced to compete in movie genre themed challenges for the one million dollar grand prize, faced with new challenges, surprises, and drama. Split into two new teams, the Killer Grips and the Screaming Gaffers, the contestants take part in various movie-genre-based challenges, where the winning teams gain immunity or rewards for their successes. The losing teams are forced to attend an award ceremony, where they vote on who will receive the Gilded Chris Award or immunity, and who will be forced to take the Walk of Shame to the Lame-o-sine, and be eliminated from the competition. The lucky cast member who outlasts their other castmates wins the highly anticipated $1,000,000.
Chris also was forced by Veronica's Mother and Aunt to allow her back on as Co-Host once more. However, at the fourth episode she replaced him again, but he got her fired and sent to the sidelines in the following episode. Following that, she joined two others on the Total Drama Aftermath, a talk-show where those eliminated must face interviewers about their experiences and how they feel about their current position.

This season also introduced Mecha Courtney, Scarface, Mephiles the Dark, Slenderman, and plenty of other colourful characters as well.
Elimination Table/Recap
Monster Cash, Historical Proportions, The Aftermath I, Resident Drama, Document it All!, The Aftermath II, Independent Hellsploitation, Dial M for Merger, The Aftermath III, An Epic Dragon Tale and Celebrity Manhunt's TD Reunion Special all have no elimination.

However, Celebrity Manhunt's TD Reunion Special does have Cody, Lindsay, Justin, Heather, Gwen, Duncan, Bridgette, Trent, DJ, Beth, Veronica, Sierra, Alejandro, Noah, Sadie, Eva, Ezekiel and Tyler move on to be contestants in Total Drama World Tour.

This season introduces Dr. Pennywise, a staff-member of the show in Document it All!.
This season also marks the first appearances of Mecha Courtney, Scarface, Mephiles the Dark, Margery, Slenderman, Josh, Sierra, Alejandro, and the Dilophosauruses.
Total Drama World Tour
For best coverage, see Total Drama World Tour and Total Drama World Tour Episodes/Chapters
Fifteen previous contestants and three newcomers compete in challenges all around the world. However, this season, when Chris rings a bell, the contestants must break into song. If they don't, they are automatically eliminated. By the rules, contestants must sing once in each episode, and Chris may call a "reprise" of the song. Contestants safe from elimination are awarded barf bags full of airline-issued peanuts, continuing the tradition of edible safety items. When a contestant is eliminated, they must take the Drop of Shame voluntarily or someone will have to force them off of the plane.
During the events of Celebrity Manhunt's Total Drama Action Reunion Special, all of the contestants from the first two seasons (plus Veronica) went to great lengths to prevent being labeled as "has-beens," and being replaced by Chris' new reality concept: Total Drama Douchebages . Ultimately, after proving themselves through nearly catastrophic means, Chris rescues a group of fifteen (as well as two new faces and Veronica) to join him on a journey around the world in the third season. Traveling around on the Total Drama Jumbo Jet, the cast participates in new challenges in various countries on six continents with all new drama and challenges awaiting them. Split into three separate teams after the first challenge, the teams work to achieve immunity, as well as first-class to their next destination. The losing team is then forced to attend a ceremony, where one member is forced to take the Drop of Shame from the plane to wherever they land. The lucky contestant who outlasts the rest of the contestants wins $100,000,000,000. This is the process in Total Drama World Tour in which a contestant is eliminated; initially, the team that lost the most recent challenge, unless the last challenge happened to be a reward challenge, would vote for a contestant and the one with the most votes against them would be voted off. Since the teams eventually merged, all the contestants began to vote for each other and only the challenge winner received immunity. In certain challenges, a contestant would be automatically eliminated without any votes if they lost a challenge after the merge.
Elimination Table/Recap
With this season, Justin, Lindsay, Bridgette, Duncan, DJ, Trent, Beth, Gwen, Heather and Cody all are the contestants to compete all three first generation seasons of the show.

Veronica, Blaineley, Sierra and Alejandro all only compete in World Tour.
Geoff only competes in Total Drama Island.
Katie, Izzy, LeShawna, Courtney, Harold and Owen all compete in Island & Action but not in World Tour.
Ezekiel, Tyler, Sadie, Eva and Noah all compete in Island & World Tour but not Action.

This is the first season where a contestant actually dies while competing.
This season so far has the most unfair/irregular eliminations.
This is the first season to introduce new contestants into the game.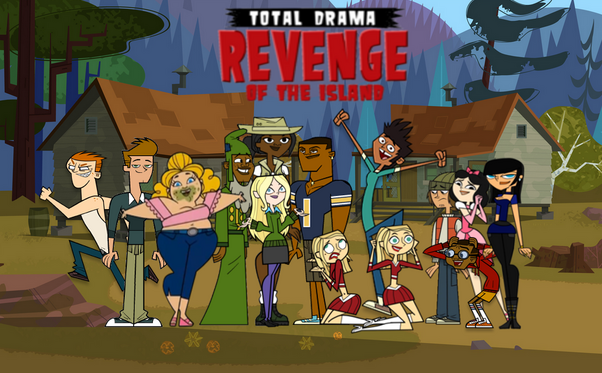 Elimination Table/Recap:
Total Drama All-Stars (Hypothetical)
The following is a purely hypothetical depiction of what Eternal's Total Drama had planned for the Total Drama All-Stars season. The season was to have 26 episodes total, and feature at least 22+ contestants returning to Camp Wawanakwa. Due to this, the "Season 4" cast was of course mostly returning, save a few exceptions.
Major Plotpoints:
Cody's attitude is much more spoiled and arrogant/egotistical than in previous seasons, and his richness makes him be disqualified first. However, he does not take the flush and instead remains on the island primarily due to "ratings" reasons. In reality this is merely to finish up his storylines. He also finally hooks up with someone by the end of the season. Decisions were primarily between a girl, Topher and Justin.
Sierra is back alive and competing, and struggles between turning back to Cody, staying on Cameron, or finding another man in her life.
Mike's last personality, Mal, comes out and is the main antagonist of the season.
Alejandro is still trying to fully recover his memory of previous events, and is much more an anti-hero in this season rather than Villain. Scott has a similar situation too.
Amy still tries to bully Sammy, but Sammy is much more able to stand up for herself.
Chris is more sadistic than ever before
Sugar is perfectly fine after being left on the island in quarantine.
The Producers join Geoff & Bridgette on the aftermath and show themselves as even more obnoxious, mean, selfish, greedy, conceited and cruel than Blaineley ever could hope to be.
Courtney is fully back to her normal self, and is more than ready to compete on the show once again to prove she's still got it.
Participant
Team
Status
Placing
Cody

Heroic Hamsters

1st Disqualified
in "Heroes vs Villains - Part 2"
25th Place
Non-Merged
Amy

Villainous Vultures

2nd Voted out
in "Evil Dread"
24th Place
Leonard

Villainous Vultures

3rd Voted out
in "Saving Private Leechball"
23rd Place
Owen

Heroic Hamsters

4th Voted Out
in "Food Fright"
22nd Place
Izzy

Heroic Hamsters

5th Eliminated
in "Moon Madness"
21st Place
Justin

Villainous Vultures

6th Voted out
in "No-One Egg-Spects the Spanish Opposition"
20th Place
Sierra

Villainous Vultures

7th Voted out
in "Suckers Punched"
19th Place
Sammy

Heroic Hamsters

8th Cheated Out
in "100 Ways to be Tortured"
18th Place
Eva

Heroic Hamsters

9th/10th Voted Out
in "Seek and Ye Shall Mine"
17th/16th Place
Lightning

Villainous Vultures

9th/10th Disqualified
in "Seek and Ye Shall Mine"
Harold

Heroic Hamsters

11th Eliminated
in "TDAS Aftermath II"
15th Place
Cameron

Heroic Hamsters

12th Voted Out
in "Haute Camp-Ture"
14th Place
Sugar

Villainous Vultures

13th Voted out
in "Wawanakwa Idol"
13th Place
Lindsay

Heroic Hamsters

14th Cheated Out
in "All Around the Genres in Half an Hour"
12th Place
Alejandro

Villainous Vultures

15th Cheated Out
in "Chef Hatchet's Clubhouse"
11th Place
Alexandria
No Team
Debuted in "You Regatta be Kidding Me"
16th/17thInjured
in "You Regatta be Kidding Me"
10th/9th Place
Merged
Ed
No Team
Debuted in "You Regatta be Kidding Me"
16th/17thInjured
in "You Regatta be Kidding Me"
Topher

Heroic Hamsters

18th Disqualified
in "Revenge of the Awake-a-thon"
8th Place
Duncan

Villainous Vultures

19th/20th Eliminated
in "A Hike, a Fear, and a Dodgeball"
7th/6th Place
Chris
No Team
Debuted in "You Regatta be Kidding Me"
19th/20thInjured
in "A Hike, a Fear, and a Dodgeball"
Courtney

Villainous Vultures

21st Eliminated
in "Sunday Muddy Sundae"
5th Place
LeShawna

Heroic Hamsters

22nd Eliminated
in "The Bold and the Booty-ful"
4th Place
Gwen
The Reboot and Reveal
It was later revealed in an upcoming reboot, that the entire series was actually concoted by a girl known as "Maria Susan", and is actually a Fanfiction within a Fanfiction, which in hindsight explains things such as the weird headcanons, sexuality developments, deaths, etc. The reboot will have it's own wiki to keep it's info away from this series'.
Like the original fanfiction, the series will begin at Total Drama Island and go on from there. Unlike it or also-popular and similiar Total Drama Do-Over by CoGreen20, it will use 22 campers that are actually mixed from all seasons (including Ridonculous Race) instead of all 45+ canon originals or just the original canon 22 (25 including Sierra, Alejandro & Blaineley). Chris & Chef remain the hosts in the reboot, though Blaineley might be joining them as a 3rd major host. Some campers have been confirmed, but nothing is truly solid until the first episode is finally posted.
Hypothetical Mega-Season: Total Drama Complete Mayhem (TDCM)
Total Drama Complete Mayhem is a hypothetical -but unrealistic- season continuing off of the canon series, featuring all of the Total Drama contestants from Season 1 to Ridonculous Race, that means: Ezekiel, Eva, Noah, Justin, Katie, Tyler, Izzy, Cody, Beth, Sadie, Courtney, Harold, Trent, Bridgette, Lindsay, DJ, Geoff, LeShawna, Duncan, Heather, Gwen, Owen, Mr. Coconut, Blaineley, Sierra, Alejandro, Staci, Dakota, B, Dawn, Sam, Anne Maria, Brick, Mike, Jo, Scott, Zoey, Lightning, Cameron, Beardo, Leonard, Amy, Rodney, Sammy, Ella, Topher, Dave, Scarlett, Max, Jasmine, Sky, Shawn, Tammy, Gerry, Pete, Ellody, Mary, Laurie, Miles, Jen, Tom, Kelly, Taylor, Jay, Mickey, Chet, Lorenzo, Spud, Rock, Dwayne, Junior, Crimson, Ennui, Ryan, Stephanie, Carrie, Devin, Emma, Kitty, Jacques, Josee, MacArthur, Sanders and Brody.
It is not canon to either the reboot or original fanfiction, and is literally just a hypothetical "Everyone together" Mega-Season.
It is likely that due to the size of the cast, this Mega-Season would have full hour-long episodes in it instead of 22-minute ones.
Teams:
1. "Team Totally In Super Duper Love": Bridgette, Geoff, Brody, MacArthur, Sanders, Sam, Crimson, Ennui, Stephanie, Ryan
2."Team Topher Would Make a Totally Awesome Host": Topher, Trent, Rodney, Shawn, Gerry, Laurie, Miles, Ellody, Mary, Ella
3. "Team Besties": Carrie, Devin, Lindsay, Beth, DJ, Mickey, Jay, B, Kitty, Emma
4. "Team Amazon 2.0": Anne Maria, Amy, Sammy, Izzy, Jen, Dawn, Jo, Kelly, Taylor, Tom
5. "Team Sparta": Brick, Lightning, Cameron, Duncan, Owen, Beardo, Spud, Rock, Dwayne, Staci
6."Team Failure": Ezekiel, Mike, Lorenzo, Chet, Pete, LeShawna, Eva, Zoey, Jasmine, Sierra
7. "Team Magic": Leonard, Noah, Dave, Cody, Harold, Sky, Gwen, Katie, Sadie, Tammy, Tyler
8. "Team Axis of Evil": Heather, Blaineley, Josee, Scarlett, Sugar, Alejandro, Justin, Max, Scott, Jaques, Courtney
Elimination Table/Recap
}
Participant
Team
Status
Placing
Reason
Episode Location
Mr. Coconut
None
1st Eliminated
in "Total Mayhem"
85th Place
Pre-Teams
An inaminate object "revived" by Chris & Chef purely to be the first thing eliminated.
Canada
Dwayne Jr.
None
2nd Disqualified
in "Uncut & Untamed"
84th Place
It was revealed that the show does infact have age-limits, forcing Chris to immediately disqualify Junior.
Canada
Dakota
None
3rd Cheated Out
in "Chris, Whereart Thou?"
83rd Place
Chris was upset in his inability to hurt Sam while she was around, and to hurt her due to her post mutant power, aswell as the fact he couldn't have the teams due to odd numbers. So he actually rigged the votes himself to cheat her off.
Canada
Staci
Team Sparta
4th Voted Out
in "The One Wherein Teams are Made"
82nd Place
Pre-Merge
Her constant talking/lying annoyed her team into inevitably voting her off first when they ended up losing thanks to her.
Canada
Lightning
Team Sparta
5th Voted Out
in "Galleria Madness"
81st Place
His arrogance, idiocy, and constant wanting to rename the team annoyed Team Sparta before long, and cost them the win, making them vote him off rather swiftly.
Canada (Galleria Mall)
Ezekiel
Team Failure
6th Disqualified
in "Elementary, My Dear London"
80th Place
Despite Team Failure winning, Animal Rights Organizations, Ezekiel's Parents, Laurie/Miles/Dawn, and other similar groups were concerned about Ezekiel.Fearing public hatred, he disqualified Ezekiel for him to return to the Fun Zone, now deemed a nature reserve.
England, UK
Sky
Team Magic
7th Voted Out
in "Great Loch o' Ness"
79th Place
Still mad at the grief she caused him, Dave formed a "revenge on Sky" alliance with Cody, Harold, Katie, Sadie and Tyler, and also tricked Sky into even voting herself off as she was unaware of all the votes that would be against her. The rest of the team voted off Leonard for costing them all their wins so far.
Scotland, UK
Gwen
Team Magic
8th Cheated Out
in "Wales of a Tale"
78th Place
While the Revenge on Sky Alliance falls part swiftly after it won in it's goal, Cody stays on Dave's side if only because he tries to use his mother's therapy skills to help soothe Dave. In the end, Dave is ultimately actually voted off, but the votes were hacked into and so Gwen left instead.
Wales, UK
Leonard
Team Magic
9th Voted Out
in "Four-Leafed Cloving"
77th Place
With Harold leaving Dave's Alliance after getting back with LeShawna, Leonard is basically fully defenseless save for Tammy when his team decides to finally get rid of him for constantly causing their failures.
Ireland
Harold
Team Magic
10th Voted Out
in "For the Love of..."
76th Place
Harold and LeShawna's rekindled romance is percieved as dangerous to their teams, and due to that Team Magic feels the need to vote of Leonard, even if it was Tammy who caused them to lose yet again.
Bordeaux, France
Gerry
Team Topher
11th Voted Out
in "Sweet Burgundy"
75th Place
When Topher's Team finally lost a challenge, they voted out Gerry largely for being one of the team's weakest players.
Dijon, France
Mickey
Team Besties
12th Voted Out
in "Back in Louvre, Again"
74th Place
During the challenge he became severely injured along with his brother, ultimately the team chose to vote him off over his brother, but Jay was in the bottom two so it was close.
Paris, France
Amy
Team Amazon 2.0
13th Voted Out
in "Call it Brittany"
73rd Place
Her cruelty to Sammy annoyed the rest of the team, who supported Sammy in standing up to Amy. Finally, Amy was forced to face facts when she was voted off the team instead of Sammy.
Rennes, France
Tammy
Team Magic
14th Voted Out
in "T.D.I. Miami"
72nd Place
Fed up with her causing them to lose all of the time, Tammy became an obvious choice for the next TM member to be voted off.
Florida, USA
Kitty
Team Besties
15th Voted Out
in "Sweet Home"
71st Place
Alejandro successfully manipulates Kitty into getting the Besties team to lose and Kitty eliminated, though of course his attracts attention from other competitors.
Alabama, USA
Alejandro
Team Axis of Evil
16th Voted Out
in "Swamp Drama"
70th Place
LeShawna forms the first ever inter-team alliance with all of the other teams in an effort to ensure that the Axis of Evil finally loses, but also get Alejandro eliminated first off the team. They accomplish the first part easily, and the second one by (un-intentionally) severely injuring him with help from Fang.
Louisiana, USA
Zoey
Team Failure
17th Quit
in "Where Everything's Bigger"
69th Place
After Blaineley caused the breaking up of her and Mike's relationship (unknown if on purpose or not), Zoey feels angry and goes commando again, but this disrupts the entire challenge. In the end, she quits the competition rather than gets voted off.
Texas, USA
Geoff
Team TISDL
18th Voted Out
in "Viva La Mexico"
68th Place
Wanting payback of her own, Blaineley uses her gossip skills to manipulate Geoff's team (barring the Police Cadets, Brody & Bridgette), into wanting to vote him off.
Mexico
Bridgette
Team TISDL
19th Cheated Out
in "Around Central America in an Hour"
67th Place
Blaineley creates another illegal alliance again, this time the first act of the alliance is to get Bridgette cheated off of the show, which is successful. With Bridgette eliminated though, the Aftermath Show is able to start up again.
Guatemala, Honduras, Nicaragua, Costa Rica & Panama
Cameron
Team Sparta
20th Voted Out
in "Colombia Day"
66th Place
Voted out largely due to being the weakest member of the team.
Colombia
Duncan
Team Sparta
21st Voted Out
in "The Beatiful Shore of Venezuela"
65th Place
He found himself another victim of the Axis of Evil Members, this time though a bit of a team-up against him, due to him being one of the more "popular" and "famous" Total Drama contestants intimidating the antagonist team members.
Venezuela
Beardo
Team Sparta
22nd Voted Out
in "Revenge of the Pain Forest"
64th Place
The team voted him out largely due to, well, being a weak member of the team overall and his constant sound effects.
Brazil
Owen
Team Sparta
23rd Voted Out
in "An Argentinian Brunch"
63rd Place
He is voted off of Team Sparta largely due to eating all of their food in the Cooking/Eating part of the challenge, thus losing the challenge for the team.
Argentina
Anne Maria
Team Amazon 2.0
24th Quit
in "Chili in Chile"
62nd Place
When she ends up being the hair victim of the season and goes bald, she angrily quits the show in humiliation as a result.
Chile
Izzy
Team Amazon 2.0
25th Voted Out
in "Chaos Down Under"
61st Place
She is voted off of her team largely due to giving the other teams outright advice on how to win the challenges, earning especially Jo's disapproval.
Australia & New Zealand
Taylor
Team Amazon 2.0
26th Quit
in "Total Komodo Islands"
60th Place
Pushed to her bratty limit, she tells off Chris and quits the show after getting annoyed with it for long enough.
Indonesia
Carrie
Team Besties
27th Voted Out
in "If You Please"
59th Place
She becomes eliminated due to the Villains Team distracting her team into splitting up, causing her, Lindsay and Beth to get lost particularly long, costing the challenge.
Thailand
Devin
Team Besties
28th Voted Out
in "To Trust Thy Team"
58th Place
Devin is voted out due to his "phases" making the team lose, and freaking them out too.
Myanmar/Burma
Miles
Team Topher
29th Voted Out
in "Bollywood, Here they Come!"
57th Place
Miles is unable to cope with animal rights violations in some of the cuisine of these countries, and their cultural habits, and as such she makes such a fuss about it her team automatically loses for offending people. As a result, she is voted off.
India
Dwayne
Team Sparta
30th Voted Out
in "Pakistani Couch Problem"
56th Place
He is once more voted off the team due to largely being the odd one out more than anything else.
Pakistan
Laurie
Team Topher
31st Voted Out
in "Into the Heart of Tibet"
55th Place
Laurie is still feeling guilt for eating meat and uses a series of helping animals to make up for doing so, including the famous Yeti and helping to bring an extinct animal back to life. However, these acts hold the team back and cause them to lose. She is voted off.
Tibet (China)
Rock
Team Sparta
32nd Eliminated
in "Hong Kong Connection"
54th Place
He accidentally offended a Chinese public official during the course of the challenge, and as such Chris was forced to count Rock as instantly eliminated regardless of vote.
Hong Kong, China
Heather
Team Axis of Evil
33rd Disqualified
in "Downfall of a Nation"
53rd Place
The show got taken over by the Chinese government, and due to that the challenge became overthrowing China's communism. In the end, Heather became disqualified when she was crowned the first empress of China's newest imperial dynasty.
Beijing, China
Spud
Team Sparta
34th Eliminated
in "Manchu, You!"
52nd Place
When Team Sparta loses yet again, Spud ultimately loses the tiebraker challenge against Brick.
Manchuria (China)
Blaineley
Team Axis of Evil
35th Disqualified
in "When in Russia..."
51st Place
Blaineley ends up catching the eye of the President of Russia, who falls in love with her. She convinces him to crown her the Tsarina of all Russia after restoring the monarchy using this love (and to some extent intimidation from Bruno).
Russia
Brick
Team Sparta
36th Eliminated
in "Ukraine shall not Perish!"
50th Place
Inevitably, Team Sparta (just Brick by this point), loses the challenge again, and Brick is automatically eliminated as a result.
Ukraine
Courtney
Team Axis of Evil
37th Disqualified
in "Byzantine Proportions"
49th Place
Courtney becomes disqualified when she is able to actually come up with a strategy the Greeks could use for reclaiming Constantinople & the Byzantine Empire aswell as proving herself a leader for her team (Somewhat). As a result, she is crowned the Queen of Greece and is expected to reclaim Constantinople and return Orthodoxy to Anatolia despite not even being Greek or Orthodox.
Greece
Sammy
Team Amazon 2.0
50th Eliminated
in "Great Macedonia"
48th Place
Chris is so angry that Sammy made the 'Top 48' that he eliminates Sammy himself just for getting a boyfriend in B and being 'inferior' to Amy. This earns him hatred from everyone else, but he doesn't care.
Macedonia
Dawn
Team Amazon 2.0
51st Cheated Out
in "A Serbian Episode"
47th Place
Scarlett, who is beginning to become a major villain again, decides to get rid of Dawn to forward her plans due to Dawn's aura reading abilities. She orchestrates events that culminate in Dawn being effectively cheated off of the season.
Serbia
B
Team Besties
52nd Eliminated
in "Live in Croatia!"
46th Place
Scarlett got B eliminated by manipulating Chris into getting mad that he made Sammy happy, thus triggering Chris' bias and getting B unfairly bluntly eliminated from the Season.
Croatia
Emma
Team Besties
53rd Voted Out
in "Hungry for Hungary!"
45th Place
Scarlett uses Emma and Noah's love for each other to play with Emma's mind during the challenge and make her team question her true loyalties, as well as orchestrate the Team's failure. In the end, Emma is voted out due to this meddling done by Scarlett.
Hungary
Jay
Team Besties
54th Injured
in "A Traditional Bulgarian Time"
44th Place
Scarlett meddles with the challenge, causing Jay such a traumatic and extreme injury that he is forcibly eliminated from the competition.
Bulgaria
Beth
Team Besties
55th Forefeited
in "Great Swiss Cheese"
43rd Place
Scarlett nearly tricked Lindsay off of the show, however, Beth forefeited her win so that Lindsay could stay on longer. This however, was actually part of Scarlett's plan to get rid of Beth before Lindsay.
Switzerland
Lindsay
Team Besties
56th Disqualified
in "Bavarian Meatdown"
42nd Place
When Lindsay comes up with a way to actually solve all of the European Union's problems, Angela Merkel intervenes in the show and orders Lindsay's elimination before she threatens her own position. Chris, not wanting Germany to declare war on Total Drama, obliges and forcibly eliminates Lindsay at the demand of the German government.
Bavaria (Germany)
Tom
Team Amazon 2.0
57th Forefeited
in "Ulming Out Story"
41st Place
Scarlett learns that Tom actually is indeed Homosexual, and uses this to her advantage. In the end, she reveals this to everyone discreetly in an attempt to humiliate Tom with their mixed reactions. When Tom shows no humiliation from this, she instead uses Sierra to reveal Tom's interest is none other than DJ. This humiliates and scares Tom. In the end, DJ is up for elimination but like Beth with Lindsay, Tom forefeits himself to save DJ from elimination. DJ actually decides to give Tom a chance much to everyone's shock.
Ulm, Germany
DJ
Team Besties
58th Eliminated
in "Last Night in Berlin"
40th Place
Scarlett sabotages him in the challenge to get him eliminated, and since he is the last remaining member of Team Besties, DJ is naturally automatically Eliminated
Berlin, Germany
Noah
Team Magic
59th Voted Out
in "Gossiping Dames of Denmark"
39th Place
Scarlett tells Sierra that Cody might be LGBT too alongside Tom/DJ, and this gets Sierra enraged at Noah despite her lack of evidence that he and Noah are actually together. Sierra spreads gossip that Noah is cheating on both Emma and Cody and thus gets Noah hated by everyone, and even Cody feels so weirded out by the whole thing that when it causes none of the teams to win, Noah is voted out by everyone. This was part of Scarlett's plan to get rid of him due to his intelligence.
Denmark
Ella
Team Topher
60th Voted Out
in "Week in Sweden"
38th Place
Sugar finds out about Scarlett (and Max)'s scheming and the Axis of Evil Team all ends up against itself until all of them agree to work together with Scarlett - though Sugar adds the condition that Ella be the one they sabotage out of the competition first. They do so, and due to making it look like Ella lost the challenge for her team, they cause her to be voted off by Team Topher.
Sweden
Sam
Team TISDL
61st Voted Out
in "Noway, Norway!"
37th Place
His Game Guy breaks causing him to go into withdrawls, aswell as him having done basically nothing of importance up to this point, in relative to everyone else, makes him the odd one out in the elimination ceremony and ultimately voted out.
Norway
Jen
Team Amazon 2.0
62nd Eliminated
in "Finland Couture"
36th Place
Due to their low numbers and Jen's own struggle with Finnish fashion, Tam Amazon 2.0 loses the fashion challenge and faces a tiebreaker which Jo inevitably wins against Jen on, thus leaving Jen eliminated and Jo the last member of the team.
Finland
Brody
Team TISDL
63rd Injured
in "Iced Up in Iceland"
35th Place
The Axis of Evil Alliance plots on Josee (and Jacques)'s plan of getting rid of the Police Cadets. Their first order of business is to cause Brody an extreme injury as to forcibly eliminate him from the competition, to "weaken the defenses". It actually is successful, in getting Brody off at least.
Iceland
Scott
Team Axis of Evil
64th Quit
in "South Africa Shark Hour"
34th Place
In the shark related challenge, Scott is naturally terrified of Sharks, so he quits both the show and the Axis of Evil alliance due to not wanting to face Fang again, making him be the one eliminated for this episode.
South Africa
Stephanie
Team TISDL
65th Voted Out
in "Oh my Ghana!"
33rd Place
Her and Ryan get into another situation which causes their team to lose. Due to her more agressive nature, she is chosen to be voted off over him, much to her of course, shock (and anger).
Ghana
Sanders
Team TISDL
66th Disqualified
in "The Nigerian Problem"
32nd Place
Thanks to the Axis of Evil Alliance, Chris is caught by the Police Cadets doing a Nigerian Prince scam (among his various other technical crimes). When they try to arrest him, however, the Producers inform them that their contracts make them unable to do so, much to their chagrin. Chris, being generous, only disqualifies Sanders instead of both of them, but gives MacArthur a severe penalty for the next three challenges.
Nigeria
Jo
Team Amazon 2.0
67th Eliminated
in "Return of the Morroco"
31st Place
Team Amazon 2.0 is so disadvantaged due to the challenge and Chris' general unfairness, that it is inevitable that Jo loses the challenge, and of course promptly be automatically eliminated. This ends Team Amazon 2.0.
Morroco
Rodney
Team Topher
68th Voted Out
in "Dat Chad"
30th Place
The Axis of Evil Alliance uses his shtick for falling in love constantly to trick him into losing the challenge for Team Topher and getting the Axis of Evil to win. This in turn, makes the rest of Team Topher promptly vote him off.
Chad
Shawn
Team Topher
69th Voted Out
in "Egyptian Mayhem"
29th Place
The Axis of Evil Alliance manipulates the rest of Team Topher into being convinced that Shawn is more loyal to Jasmine than to them, and also convince Shawn that a Zombie infestation is present in Egypt. All of this works together to make his team vote him off in the end.
Egypt
MacArthur
Team TISDL
70th Disqualified
in "Sudanese Vengeance"
28th Place
Finding out the truth behind the Axis of Evil, MacArthur works to expose them whether Chris wants her to or not, they of course put up a powerful resistance. In the end, MacArthur is able to thwart Chris and expose the Axis of Evil as the Season's villains - with the help of others like LeShawna, Ellody and Mary - though Chris reveals MacArthur is still disqualified now due to the arrest she attempted on him in Nigeria.
Sudan